360 Engineering is providing a scholarship to one undergraduate student to attend the Latinas in Engineering conference in October with our project engineer, Jacqueline Solis-Armenta.
Latinas in Engineering Week holds daily virtual sessions from October 10th to October 15th, with an in-person conference on October 15th at the University of Illinois Chicago.
360 Engineering, Inc. hopes to give the opportunity for a prospective Latina engineer to attend the in-person event with a 360 Latina engineer. The 360 scholarship includes:
Admittance to the conference
Flight to Chicago, IL, October 14th and return flight October 16th
Lodging for two nights
Breakfast, lunch, and dinner for the duration of the stay
Mentorship
The conference is a great way to network with other Latinas in engineering, learn how to deal with adversities as a Latina in Engineering, participate in a career fair, gain access to mentorship, and celebrate Latinas in engineering!
While this scholarship is for one student, Jackie encourages people to attend the free week-long virtual sessions. The conference host is also currently offering a scholarship for undergrad Latinas. More information on the event can be found here:
https://latinaengineer.com/ilew/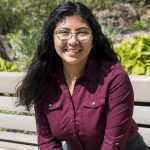 Jackie joined 360 Engineering in May of 2022 as a graduate of the University of Colorado, Boulder, with a B.S. in Mechanical Engineering and a Minor in Energy Engineering. Her interests in design and passion for sustainability led Jackie to the path of mechanical engineering, where she can work on creating more energy-efficient mechanical systems. As a Project Engineer, Jackie's focus includes field investigations, calculations, equipment selections and layout, and drafting. She enjoys performing calculations and designing systems to aid in the development of a sustainable future. Jackie grew up in Thornton, CO, and likes learning new skills such as knitting, roller skating, painting, and playing instruments. She is also learning ASL due to her experience of wanting to communicate with people in their preferred language. Jackie is passionate about inclusivity and equality through communication, resources such as transportation, and education.