Current Employment Opportunities
360 engineering is looking for talented, hardworking individuals who like to have fun and build great architecture.
Our Culture

360 Engineering was founded on the idea of Unlimited Vision – seeing all the possibilities. This open-minded approach defines our work with clients and our culture within.
We are incredibly client-focused, emphasizing responsiveness and clear communication. We don't confine ourselves to market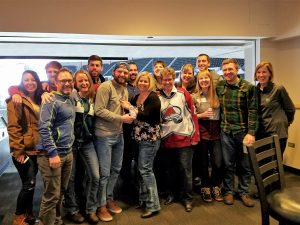 segments or project types, believing that solving a great variety of challenges best equips our team to effectively and efficiently complete any single undertaking. In that spirit, the people that make up 360 Engineering are not strictly confined to roles or duties. Engineers are encouraged to do more than draft what is dictated; they are given guidance to make design decisions on their own and, as they grow, to take on increasing responsibility. We support continuing education and career growth, challenging all employees to better themselves and the company.
Our office vibe varies from diligent silence to jovial chatter to frantic chaos, often all in the same day! Deadlines need to be met, but employee morale is a priority, making sure nobody gets burned out and aiming to leave early on Fridays.
Project Engineer
360 Engineering, headquartered in beautiful downtown Golden, Colorado is an award-winning mechanical design firm specializing in HVAC and plumbing systems for commercial structures. Our work spans new construction, laboratories, hospitals, hotels, and historic renovations. We are built on the philosophy that service starts on the inside. A high degree of collaboration between our member team and our clients supports our Shared Vision/Shared Success motto. We're proud of our diverse project portfolio and are growing. We're in search of a detail oriented engineer who is committed to our service values and wants to help us grow. Do we have your attention?
Description:
Project Engineer, will be submersed in coordination from beginning to end including schematic design, design development, construction drawings, and construction administrative services. Utilizing AutoCAD/REVIT, Trane Trace 700, Microsoft Office, and Bluebeam. Learning and developing HVAC and plumbing knowledge of practices, standards, and codes. Travel out of state is minimal. Applicant must be results-oriented, proud of work produced and loyal to the ethics of the field.
Responsibilities
Under the guidance of Project Managers, include but are not limited to:
• Daily interaction and coordination with architects, engineers, and clients in a clear concise format, is of utmost importance.
• Interaction with outside vendors to select equipment, coordination, and submittal information.
• Performing energy compliance requirements for building departments, and coordination with other team members.
• Calculations of, but not limited to: heating and cooling loads, ventilation, plumbing systems, roof drains, gas, and energy usage.
• Research and understanding of various systems.
• Develop readable and constructible drawings and edit specifications. Reviewing and submitting project checklist, calculations, etc.
Requirements:
• F.E. preferred, not required.
• Engineering degree in the mechanical engineering field.
• CAD/REVIT Experience
• Construction process knowledge
• 2+ years experience in construction industry
Our team members enjoy:
• A competitive salary and unmatched professional growth
• Incredible suite of benefits
• The opportunity to work with a market leader, doing what you do best