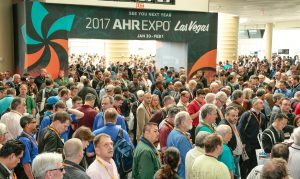 Here at Three Sixty Engineering, keeping up with the latest technologies in Mechanical Engineering and HVAC is high priority, which is why two of our mechanical engineers are attending the AHR Expo, a three-day conference co-sponsored by ASHRAE and AHRI. As one (1) of Colorado's eleven (11) certified ASHRAE High-Performance Building Design Professional's (HBDP), our President, Denise Dihle P.E., LEED AP BD+C, HBDP, CxA, leads by example and encourages the staff to stay involved and informed.
The conference, taking place January 30, 2017 through February 1, 2017 in Las Vegas, NV, will host more than 2,000 exhibitors and attract crowds of 60,000 industry professionals from every state in the U.S. and 150 countries worldwide per the AHR Expo website http://ahrexpo.com. Beginning as a heating and ventilation show 85 years ago, the expo has evolved into the leading HVACR event.
Before heading to the conference, one of our Project Managers, Taylor Reese LEED AP BD+C, CxA, shared his thoughts on why the AHR Expo is important to attend.
Education
The ASHRAE Conference provides a unique opportunity to take part in courses taught by top experts in the field and industry leaders. For entry-level engineers, it presents an opportunity to dig into the fundamental topics on which they can build their knowledge. For experienced engineers, it's a chance to dive deep into unique complex system applications, address the latest code updates, and investigate innovative energy-saving strategies.
Technology
With literally thousands of exhibitors at the AHR Expo, it's a great place to learn about all the new technology, and really experience it hands-on. It provides an opportunity to speak with the people directly involved in developing and building the equipment.
Networking
The ASHRAE Conference and AHR Expo bring so many people in our industry together in one city. It's rare to have a situation where everyone you're meeting is likely related to your field and everyday work. Whether you're sitting in a panel discussion asking questions to a major manufacturer's CEO or having evening drinks with a fellow consulting engineer, there are bound to be little pieces of knowledge and experience you can glean from others that can be applied to the next tough project.
Our team is looking forward to meeting upon their return to hear about what's new in the industry and how we can use new equipment and technologies to better serve our clients on current and upcoming projects.