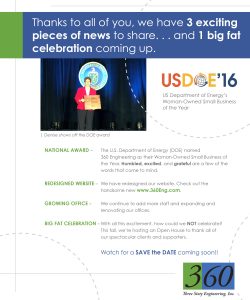 Thanks to all of you, we have 3 exciting pieces of news to share… and 1 big fat celebration coming up!
National Award
The U.S. Department of Energy (DOE) named 360 Engineering as their Women-Owned Small Business of the Year. Humbled, excited, and grateful are a few of the words that come to mind. View Announcement
Website
We have redesigned our website.
Growing Office
We continue to add more staff and expanding and renovating our offices.
Big Fat Celebration
With all this excitement, how could we NOT celebrate? This fall, we're hosting an Open House to thank all of our spectacular clients and supporters.
Watch for a SAVE the DATE coming soon!!