360 Engineering has proven success in leading projects in excess of $5 million. Our leadership and knowledgeable, objective approach allows us to manage Architect and Engineer design teams to meet your goals. On every project, from simple equipment upgrades to large multidimensional ground-up builds, we focus on you. Our first step is meeting with you to review your goals and objectives. Once we understand those, we outline a process and plan for achieving them.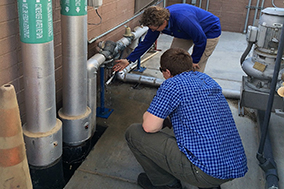 With a defined plan and process, we select a team of collaborative design professionals with the best-matched skills and approach. All of our partners take pride in their work and share our desire for exceptional results; depending on the scope of your project, our cohesive team might include architecture; mechanical, electrical, structural, and / or civil engineering; fire suppression; sustainable design; interior design; or other disciplines. We involve these experts early in the design process, when the project benefits most, and vet all ideas and innovations to align with your project goals. If codes require additional safety measures, we ensure they are incorporated and we guide the building permit process.
Communication and coordination is critical, so we hold regular meetings to review issues including project progress, design opportunities and challenges, and client involvement. We document and share these notes with all team members to keep everyone on the same page.
Maintaining schedule and budget stays at the forefront throughout. 360 Engineering continually updates the schedule and includes it in weekly progress reports issued to the team and to you. We identify potential concerns at the start of the project, address issues early, and take corrective actions to avoid impacting schedule or budget. With your feedback, the team develops thorough design documents that integrate procedures for day-to-day operations, maintenance, and emergency shut-down. We use exceptionally concise documentation, a proven cost control strategy, and close coordination with the general contractor to obtain realistic, best-value pricing at 50%, 90%, and final design completion. Part of this is working with you to identify items that can be eliminated or constructed at a later date, along with any alternatives, to keep project costs within budget.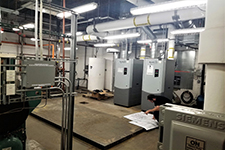 Risk mitigation and conflict resolution are similarly vital elements of a successful project. At the start, the design team identifies potential schedule and budget risks, including recommendations for mitigation such as budget allowances, contingency budgets, alternate materials, or other methods. Our emphasis on team coordination and communication helps resolve most issues before they result in conflict. When issues arise, we hold formal, documented meetings where impacted parties express their concerns and desired goals. We collaborate with all parties to find a resolution.
Ultimately, 360 Engineering's goal as your prime engineering consultant is to provide exceptional customer service, including leadership, communication, responsiveness, and adaptability – all directed toward achieving project goals. Our mission is to support your success.